March 18th, 2016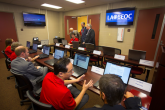 The Louisiana Business Emergency Operations Center at the University of Louisiana at Lafayette has been enlisted in...
Read More ➝
December 17th, 2015
Please note the following guideline changes for NSF, NIH, and AHRQ, effective January 25, 2016.   NSF – Revised...
Read More ➝
December 1st, 2015
LouAnne Greenwald is the director of the Paul and Lulu Hillard University Art Museum.  She obtained her undergraduate...
Read More ➝