September 18th, 2014
A grant from the National Science Foundation of almost $1.2 million will help the University of Louisiana at Lafayette...
Read More ➝
September 10th, 2014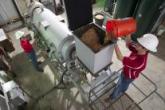 NFR BioEnergy will install biorefineries at more than 10 sugar refining hubs in south Louisiana to convert sugar cane...
Read More ➝
September 4th, 2014
The following press release was issued by Louisiana Gov. Bobby Jindal's office. Today, Governor Bobby Jindal and...
Read More ➝