Organization awards UL Lafayette research group 'Innovative Project of the Year'
Fri, 11/10/2017 - 12:23pm
Based on its effort to shield smart cars from cyber attacks, a University of Louisiana at Lafayette group was selected for the "Innovative Project of the Year" award on Nov. 2 at the Annual Clean Fuel Leader Awards ceremony in Baton Rouge.

Drs. Raju Gottumukkala, director of research for the Informatics Research Institute and assistant professor of mechanical engineering, and Paul Darby, assistant professor in electrical and computer engineering, have been collaborating with the U.S. Department of Energy and the Idaho National Laboratory to explore how hackers can use vehicle charging stations to infiltrate the information systems associated with them.


"Electric vehicles could in fact be the weak link in the chain for the U.S. power grid from a cyber security stand point," Darby noted. "Since the vehicles will plug into that grid, hackers could affect it in a substantial, devastating way, placing millions of lives in jeopardy."

Several UL Lafayette students were also recognized for their contributions to the research project.

Andrew Roche, Rizwan Merchant, Adam Tauzin, Camille Charnews, Kaleb Leon and Benjamin Armentor helped in disassembling a 2012 Nissan Leaf and its charging station and in discovering various ways to both deceive the vehicle into thinking it was connected to a station and commanding it to initiate charging.

Some of these efforts include using a computer hacking program designed by Merchant and a system devised by Roche that sends certain electrical signals to the car's computer.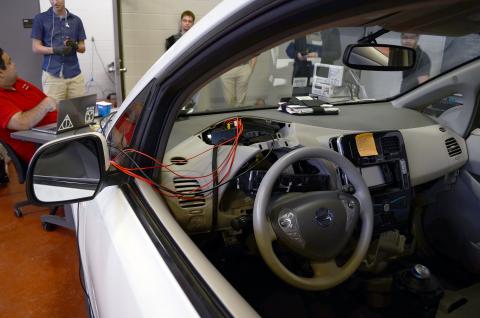 Gottumukkala and Darby are also in the process of building their own simulating charging station, which would allow them to test scenarios that an off-the-shelf station can't do.

The project is concluding the first of its three-year research plan, but Gottumukkala said he expects it to continue past that as newer technologies present themselves.

"It's unrealistic to expect any of this technology to be the same in a year as it is today," he said, "so it's important we continue to study this evolving industry because bad things can happen if someone can touch those systems."

Captions: (Top from left): Adam Tauzin, Dr. Raju Gottumukkala, Dr. Paul Darby, Kaleb Leon, Rizwan Merchant, Benjamin Armentor and Andrew Roche. (Not pictured: Camille Charnews)
(Above) A smart car charging station used in the testing; inside the disassembled 2012 Nissan Leaf.